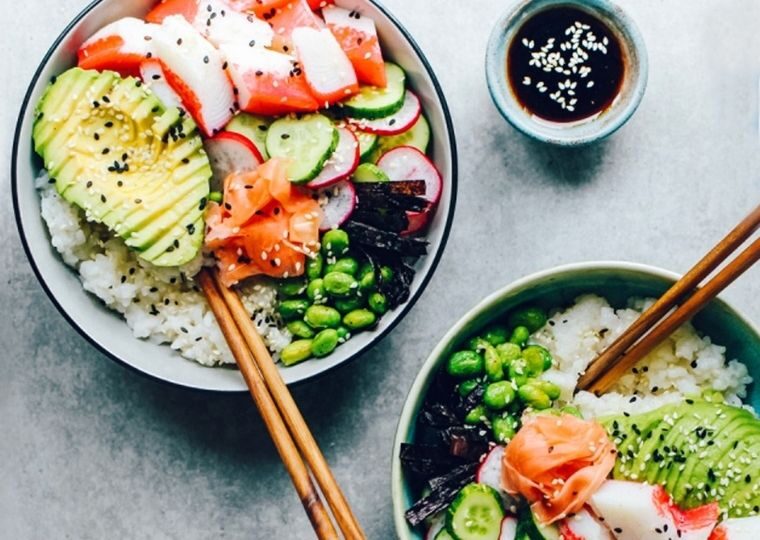 Sushi bowl with Vici Seafood sticks
30 min.
Like Sushi?
Then you'll love this Sushi bowl recipe with Vici Seafood sticks!
Did you know Seafood Sticks are one of the key ingredients for a California Roll?
No need to roll your sleeves up today though, this easy recipe is just as tasty.
Ingredients
200g Sushi rice
1 packet of Vici Surimi Royal
2 tbsp Rice Vinegar
1 tbsp Sugar
½ tsp Salt
1 Avocado
Juice of 1 Lemon
1 Cucumber
4 Radishes
A handful of Edamame beans
1 Nori sheet cut into strips
1 tsp Pickled Sushi Ginger

 
3 tbsp Soy sauce
1 tbsp Rice vinegar
1 tbsp Roasted sesame oil
1 tsp Honey (or sugar)
Preparation
1
Cook the rice to packet instructions
2
Place a small pan on a low heat and pour in the rice vinegar, sugar and salt. Heat until the sugar and salt have melted.
3
Pour the mix over the cooked rice, ensuring the rice is covered evenly. Place the rice in bowls and allow to cool.
4
Chop the Seafood Sticks, Cucumber, Radish & Avocado into bite size chunks. Sprinkle the Lemon juice over the Avocado.
5
In a pan, fry the edamame beans for a few minutes.
6
Place the sauce ingredients in a jar and shake to mix.
7
When the rice has cooled, add the bitesize chunks to the bowl alongside the edamame beans, nori sheet strips & pickled ginger.
8
Pour over the prepared sauce and sprinkle with sesame seeds.