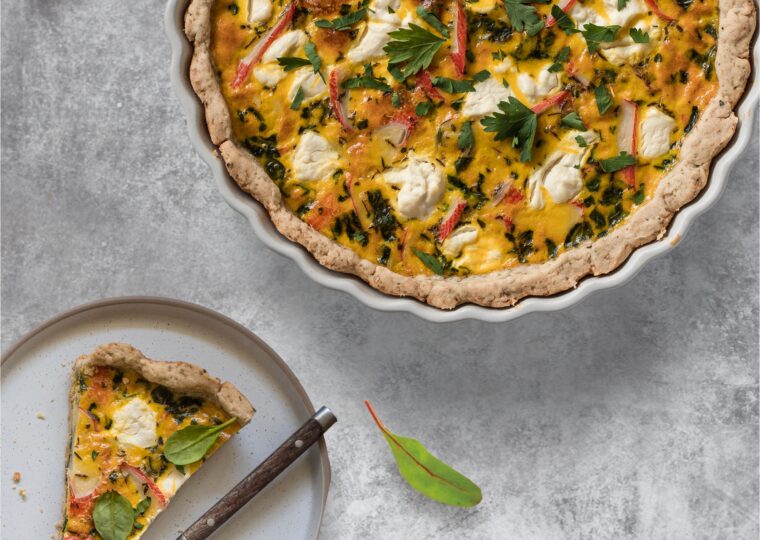 Seafood quiche
30 min.
Ingredients
For the dough:
300g plain flour
1 tsp Salt
1 tbsp Sugar
1 tsp dried mixed herbs
170g Butter
80ml Cold water
For the filling:
1 pack of Vici Classic Seafood sticks, chopped into chunks
5 eggs
150ml double cream
150ml Milk
150g Ricotta cheese
100g Spinach Mixed herbs
Salt & Pepper
Preparation
1
To make the dough mix the flour, salt, sugar and herbs.
2
Add the butter and rub together with the flour mix until forms a crumb consistency.
3
Add the water in small amounts until forms a complete dough.
4
Transfer the dough to a floured surface, knead and form a ball.
5
Wrap in cling film and refrigerate for 30 minutes.
6
Once chilled, remove the dough and form into a baking dish. Use a small ball of dough to push into the corners
7
Place the dish into the fridge for another 30 minutes.
8
To make the filling: fry the spinach and garlic in a pan until the spinach has wilted.
9
Whisk the eggs and mix with milk, cream, herbs, salt & pepper before adding the spinach mix.
10
Place the chunks of Seafood Sticks onto the base of the pastry and pour over the filling. Add the Ricotta in spoonfuls to the filling.
11
Bake in a 180c/160c fan oven for 50 minutes.