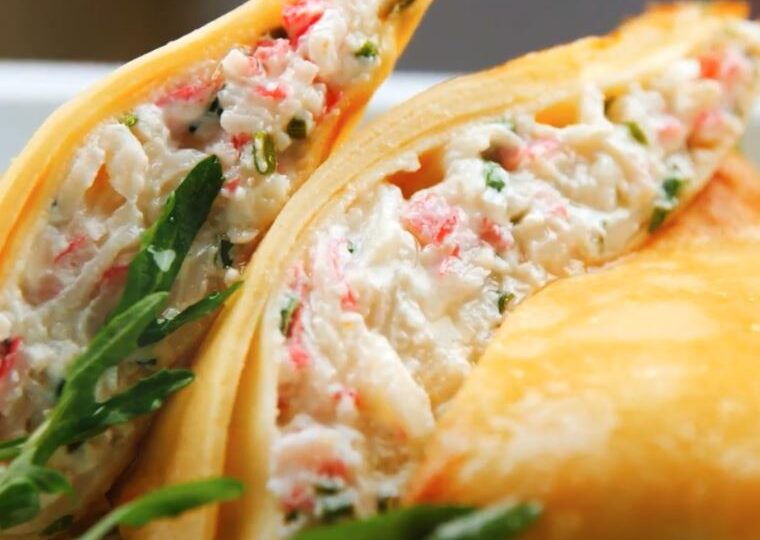 Savoury pancakes
20 min.
Love a savoury pancake?
Why not try #Seafood Sticks as your next filling!
Ingredients
For Pancakes:
60g Butter
250ml of warm milk
1 egg
½ tsp of Salt
1 tbsp of plain flour
Oil (for cooking)
100g Vici Classic Seafood Sticks
100g Ricotta Cheese
20g Cheddar
1 clove of Garlic grated
Peel of 1 Lemon
A handful of chopped Parsley and/or Dill.
Salt & Pepper for tasting
Melted butter for the top
Preparation
1
In a large bowl mix the pancake ingredients together until the batter is smooth. Place in the fridge for 30 minutes.
2
Preheat the oven to 180°c (fan).
3
Shred the Seafood Sticks and mix with the Ricotta & Cheddar Cheese. 🧀
4
Add the Garlic, Lemon Peel, herbs, and a pinch of Salt & Pepper.🧂️🍋
5
Cook the pancakes in a pan with a small amount of oil.
6
Fill each pancake with the Seafood Stick mix and fold or roll into an oven proof dish.
7
Brush the melted butter over the top of the pancakes and place in the oven for 8-10 minutes.