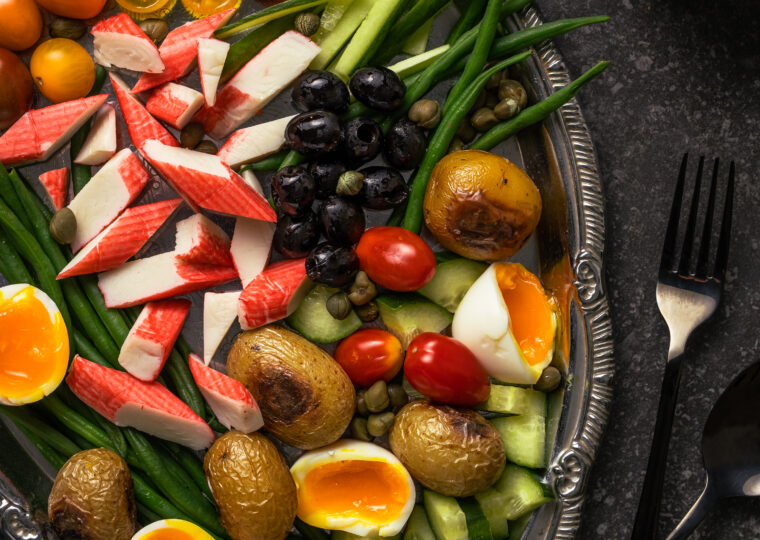 Salade nicoise with Seafood Sticks
40 min.
Salade nicoise is a classic french salad with Tuna but why not mix things up and recreate the dish with Seafood Sticks!
To share this salad between two, follow our recipe below!
Ingredients
100g Vici Classic Seafood Sticks chopped into chunks
100g Green Beans
2 eggs
6 small potatoes
1 small cucumber chopped into chunks
6 Cherry Tomatoes halved
A handful of Black Olives
Capers
3 Tbsp Olive Oil
1 tsp White Wine
Vinegar
1 tsp Honey
1 tsp Dijon Mustard
Salt & Pepper
Preparation
1
Preheat the oven to 200°c.
2
Cut and boil the potatoes for 15 minutes, drain and mix with Olive oil before placing in the oven for 30 minutes.
3
Boil the eggs to be cooked to your liking. For a classic runny yolk, boil for 6 minutes.
4
Boil the green beans and cool in cold water once cooked
5
Mix the sauce ingredients together.
6
On a serving plate combine the Seafood Sticks and other ingredients together and cover in the sauce.👩‍🍳🧑‍🍳👨‍🍳