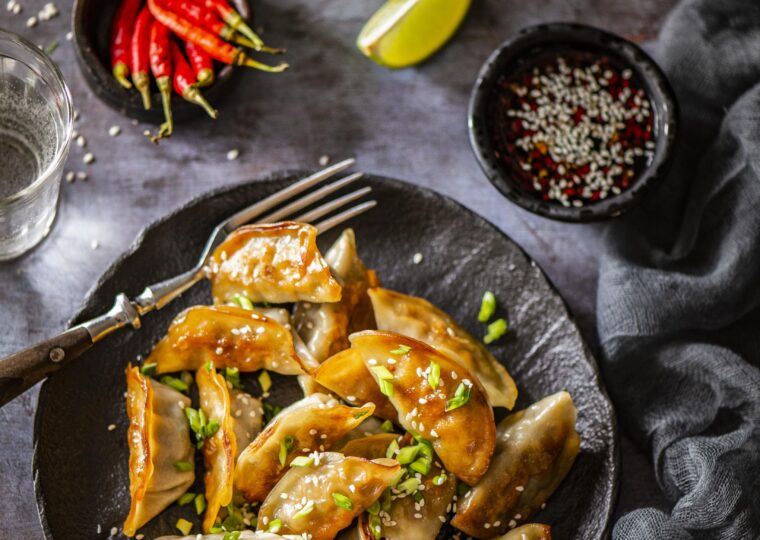 Gyoza in Asian style sauce
15min
Crispy, easy to prepare and very tasty VICI Gyozas on your plate will surprise even the most picky eaters!
Ingredients
400 g of your favorite Vici Gyoza dumplings (find it at

Vegex Shop

),
some oil,
chopped spring onion.
For the sauce:
3 tbsp of soy sauce
1 tbsp of rice vinegar
1 tsp sugar
1-2 garlic gloves,
chopped Fresh chili,
Chopped sesame seeds (optional)
Preparation
1
Heat the oil in a larger pan over medium heat. When the oil is hot, add the gyoza dumplings to the pan so that the flat surface of the dumplings is against the pan.
2
Fry them for a few minutes until the side facing the pan is beautifully golden and most of the oil has disappeared from the pan.
3
Now pour enough water to cover the base of the pan and immediately cover the pan with a lid.
4
Simmer the dumplings under the lid for about 3 minutes, then lift the lid off and allow the liquid to evaporate slightly.
5
Lift the dumplings onto a plate and sprinkle with chopped green onions and, if desired, sesame seeds. Mix the sauce ingredients to make the sauce. Serve with dumplings and enjoy!😍