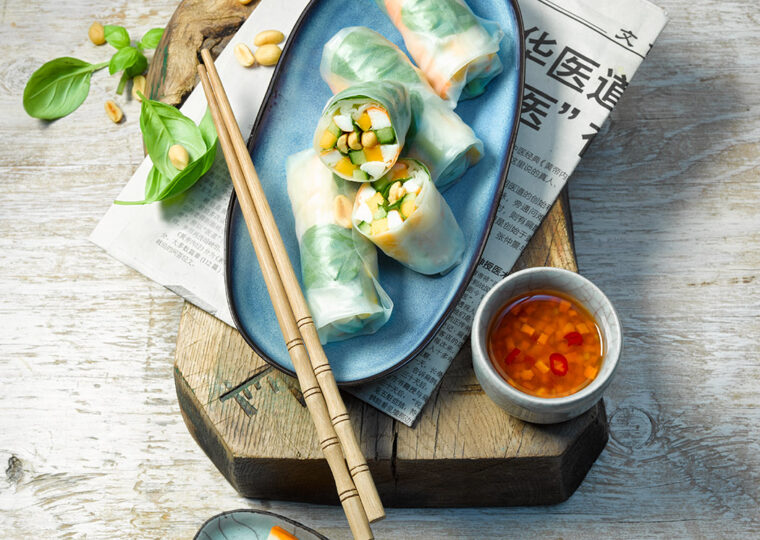 Fresh Spring Rolls with a Surimi twist.
20 min.
Add some Asian flavours to your lunch
Fresh Spring Rolls with a Surimi twist.
Ingredients
For dip:
100g Carrots
30g Fresh Ginger
1 Red Chilli
100ml Rice vinegar
80g Sugar
For Spring Rolls:
200g VICI Surimi Royale Seafood Sticks
20ml Lime juice
A handful of basil
1 large ripe Mango
1 Cucumber
80g Roasted & Salted Peanuts
12 sheets of Rice paper
Preparation
1
For the dip: Peel and finely chop the carrots and ginger. Finely chop the chilli and remove seeds if preferred . Place into a pan with the rice vinegar and sugar and simmer for 3 minutes. Remove from the heat and allow to cool.
2
For the Spring Rolls: Quarter the Seafood Sticks lengthways and drizzle with lime juice. Peel and core the Mango before cutting into thin 8cm strips. Cut the cucumber into thin 8cm strips. Roughly chop the Peanuts and Basil leaves. Dip the Rice paper briefly in lukewarm water, then spread out onto a work surface. Place a selection of seafood stick strips, mango, cucumber, peanuts and basil onto the end of a rice paper sheet. Fold in the sides of the rice paper and roll. Serve with the dip and enjoy!