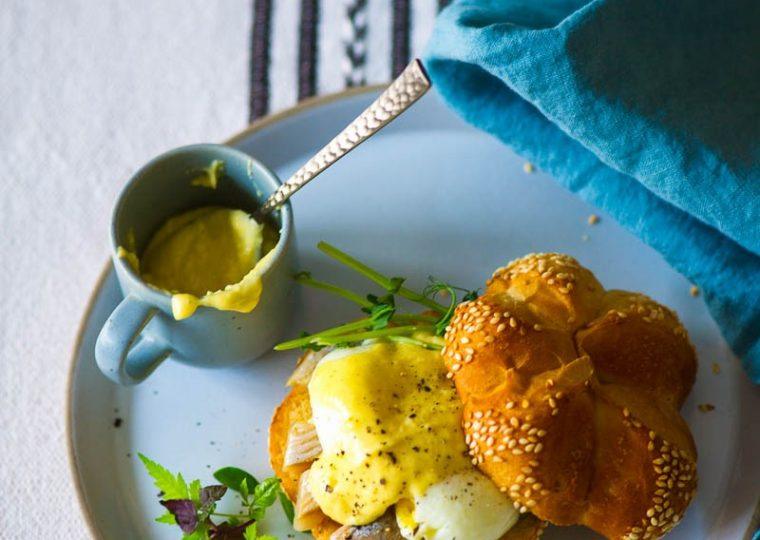 Eggs Benedict with herring and hollandaise sauce
45 min.
Eggs Benedicts is a classic of Brunch, a well known recipe that blogger Nida decided to take to a next level – an experiment of making Eggs Benedict with Herring. Salty fish and pouched egg can really brighten up ones morning! And if you are thinking about making these for nice weekend brunch be sure to watch a few videos on how to make Hollandaise sauce and pouched eggs!
Ingredients
2-3 VIČI herring fillet

4 breakfast buns

Butter

8 eggs

Salt and pepper
125 g. butter

2 eggs yolks

½ tsp white wine vinegar

½ lemon juice

Salt and pepper
Preparation
1
Cut the herring into small pieces. Add the butter to the buns and bake in an oven or toaster.
2
Boil the eggs without shell (choose the method that is most convenient for you) - about 3 minutes for liquid yolk.
3
Melt 125 g. butter in a saucepan. Keep the butter warm.
4
Put 2 egg yolks, ½ tsp white wine vinegar, a pinch of salt and a splash of ice-cold water in a metal or glass bowl that will fit over a small pan. Whisk for a few minutes then put the bowl over a pan of barely simmering water and whisk continuously until pale and thick, about 3-5 minutes.
5
Remove from the heat and slowly whisk in the melted butter, bit by bit until it's all incorporated and you have a creamy hollandaise (if it gets too thick, add a splash of water). Season with a squeeze of lemon juice and a little pepper. Keep warm until needed.
6
Put the bun into plate, add a few pieces of herring, put the poached egg and hollandaise sauce on top.
7
Sprinkle with crushed pepper and decorate with some greens!