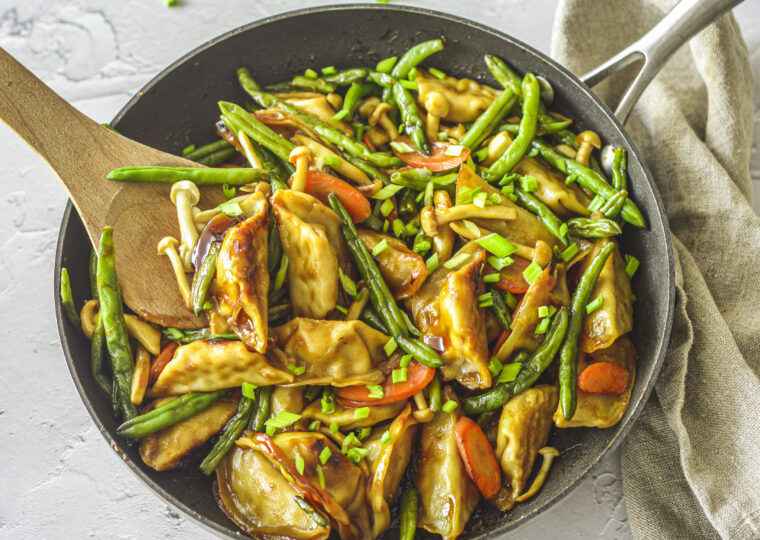 Dumplings in Teriyaki sauce with mushrooms and beans
20 min.
The sticky and delicious Teriyaki sauce with dumplings is a wonderful Asian lunch or dinner. Feel free to choose your favorites from Vici Gyoza dumplings.
Ingredients
200 g of frozen green beans
1 carrot
1 pack of Vici Gyoza dumplings (400 g)
2 + 2 tablespoons of oil
1 dl of water
150 g mushrooms (shimeji, shiitake, Agaricus bisporus)
Sauce:
4 tablespoons of Teriyaki sauce
4 tablespoons of water
2 grated garlic cloves
1 tablespoon of chopped ginger
Some chopped green onions and sesame seeds
Preparation
1
Bring the water to a boil in a pot and boil the beans for 1 minute. Drain.
2
Slice the carrots into thin peaces and leave aside with beans.
3
Mix the Teriyaki sauce with water, garlic and ginger in a bowl.
4
Heat 2 tablespoons of oil in a larger pan.
5
Pour the frozen dumplings into the pan. It is good if they fit in one layer. Let them cook uninterrupted for about 3 minutes until the underside is golden. Turn over and fry the dumplings on the other side. Add water carefully (hot oil may spray) and add some salt. Simmer the dumplings for 3 minutes.
6
By this time, all the water should be absorbed into the dumplings. Lift the pan of the heat. Pour another 2 tablespoons of oil on a pan. Add mushrooms (larger slices), beans and carrot slices. Fry for 3-4 minutes.
7
Add dumplings and sauce, stir gently for a few minutes.
8
Garnish with chopped green onions and sesame seeds.