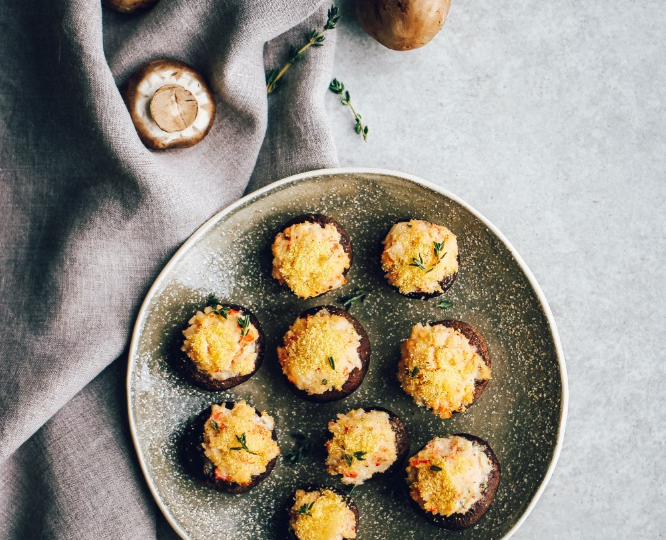 Mushrooms filled with surimi spread
20 min.
Thinking of how to surprise your guests?
Try mushrooms filled with surimi spread!
Ingredients
• 10 closed cup mushrooms
• 100g cream cheese
• 150g chopped VICI Premium surimi sticks
• 1 tablespoon of breadcrumbs, GF version 1 tablespoon chopped cornflakes
• 2 chopped cloves of garlic
• A pinch of salt and pepper
• 1/4 teaspoon smoked paprika
• 1/4 teaspoon dried oregano.
Preparation
1
Wash the mushrooms and remove the stems.
2
In a large bowl, mix the following: chopped VICI surimi sticks, cream cheese, breadcrumbs, chopped garlic and all the spices.
3
Stuff the mushrooms with the prepared mixture. If you have stuffing left over- you can serve it as a one-bite snack on a crisp bread or cracker.
4
Sprinkle the breadcrumbs on top.
5
Bake in the over at 180 degree for 10 minutes.
6
Transfer the baked mushrooms to a paper napkin/towel and let stand for 10 minutes, for any excess water to be absorbed.
7
Sprinkle with fresh thyme and serve.✨