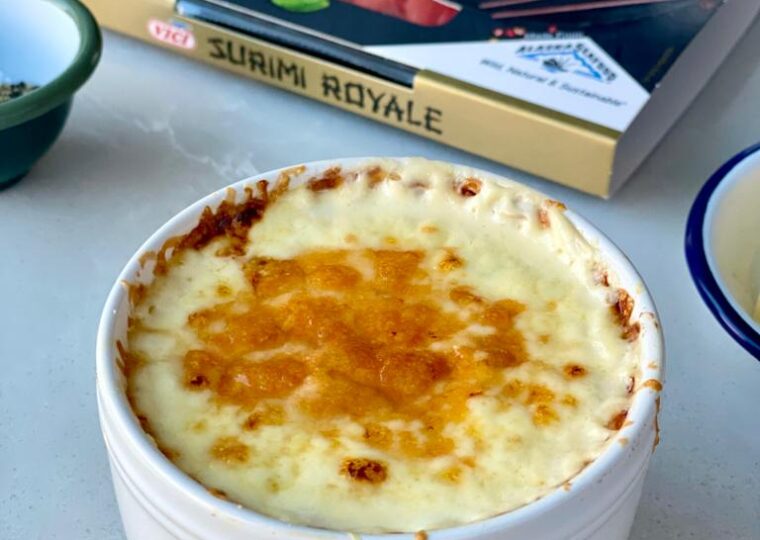 Baked Eggs with surimi chunks
20 min.
Baked Eggs – recipe below. These oozy baked eggs are your new Monday night staple, packed with flavour from secret ingredient, Vici Surimi Royal surimi chunks. 
Ingredients
20g butter
200g chestnut mushrooms, finely chopped
80g Surimi Royale, finely chopped
1 clove garlic, crushed
A handful of finely chopped chives
160ml double cream
2 free range eggs
20g gruyere cheese 
Toast to serve
Salt and pepper
Preparation
1
Melt the butter in a non-stick pan over high heat. Add the mushrooms and season well with salt and pepper. Leave for 1 minute to get some colour and then stir-fry for 3-4 minutes until a little golden. Add the Surimi Royale, garlic and most of the chives. Mix well.
2
Preheat the oven to 160 fan. Divide the Surimi Royale and mushroom mixture between two large oven proof ramakins. Crack in the eggs and pour over the cream. Place into the roasting tray and pour in 1 inch of just boiled water. Bake for 8-10 minutes until the whites have just set. The time depends on the size of your ramakin.
3
Whack the gill on high and grate the cheese over the top of the baked eggs. Place onto a baking sheet and grill for 1-2 minutes until bubbling and golden on top. Serve immediately with plenty of toast.