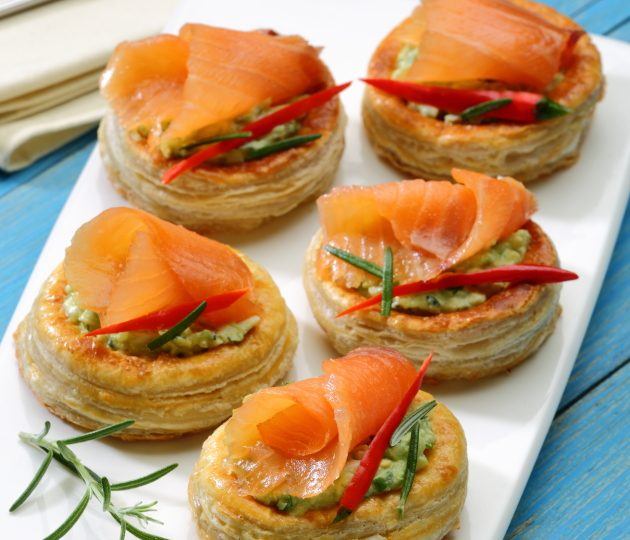 Pastry cups with salmon and cream
20 min.
These spring-inspired flavoured and colourful pastry cups with salmon, avocados, herbs and boiled eggs are perfect for a festive table or when just having guests. These cups will not only decorate your table but will also have a great taste!
Tarvikkeet
A few sheets of phyllo pastry

1 egg for brushing

150 g of smoked salmon
1 avocado

1 hard-boiled egg

1 tbsp of mayonnaise or natural yogurt
1 tbsp of cream cheese

A splash of lemon juice

1/2 of onion
A pinch of salt, pepper, herbs

Rosemary leaves

A piece of chilli pepper
Ohje
1
Brush the pricked discs with the beaten egg; put the rings on top, brush again.
2
Bake in a 190°C oven until they become nicely yellow. Cool down.
3
Scoop out the avocado flesh, sprinkle with lemon juice and crush.
4
Grate the egg, chop the herbs, and finely chop the onion.
5
Mix all ingredients; add the mayonnaise or yogurt, cheese, salt, season with pepper and herbs.
6
Put some filling into cups and decorate them with salmon rolls, rosemary leaves and a piece of chili pepper.
7
Make some discs from phyllo pastry. Remove the central part in half of them so to make rings.