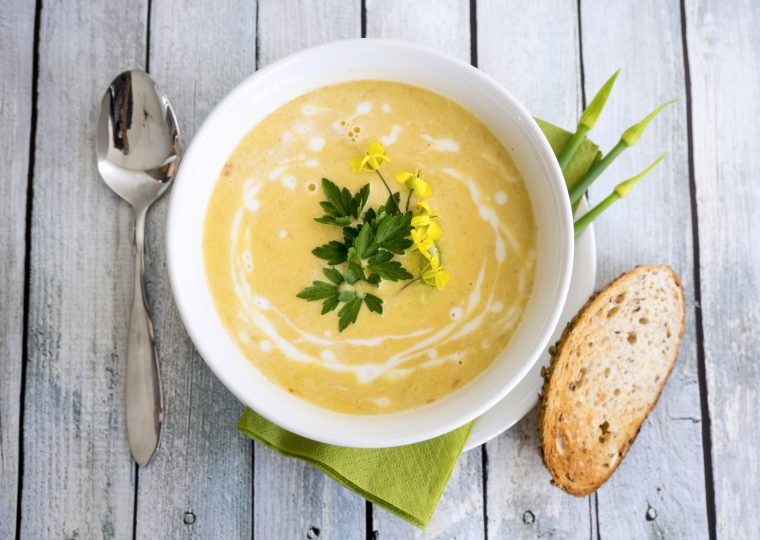 Fish soup with SNOW crab sticks
40 min.
High in protein
Low fat
This non-traditional fish soup recipe with SNOW CRAB surimi sticks, cream, vegetables and aromatic herbs will delight any fish lover. The amazing aroma and flavours are guaranteed in only twenty minutes.
Ingredients
1 kg fresh fish heads and tails

200 g SNOW CRAB sticks

A pinch of herbs (dill, parsley, coriander, basil, dill, etc.)
2-4 bay leaves

5-7 black pepper grains

Salt

1 large onion
2-3 garlic cloves

1 large carrot

3-4 potatoes

2 tbsp butter
2-3 tbsp flour

1 can of tomatoes (if not available, use chopped up fresh blanched tomatoes or tomato paste)

cream
Preparation
1
Add the fish, herbs, salt, pepper, bay leaves, chopped onions and garlic in a pot and cook for 30-40 seconds.
2
Strain the broth and add the finely cut potatoes, carrots and pressed garlic.
3
Mince the cooked vegetables in a blender.
4
Heat up a pan, add the oil, flour and some broth. Add the `canned tomatoes to this mixture and let simmer for several minutes.
5
Then add the minced vegetables and broth, and cook for an additional 10-15 min.
6
When the soup is almost ready, add coarsely chopped SNOW CRAB sticks.
7
Cook several minutes and serve with sour cream and fresh herbs.